Who will win the Prix de l'Arc de Triomphe at Chantilly next weekend? Watch expert betting analysis with Tony Calvin and Nick Lightfoot, race replays and read analysis by Tom Peacock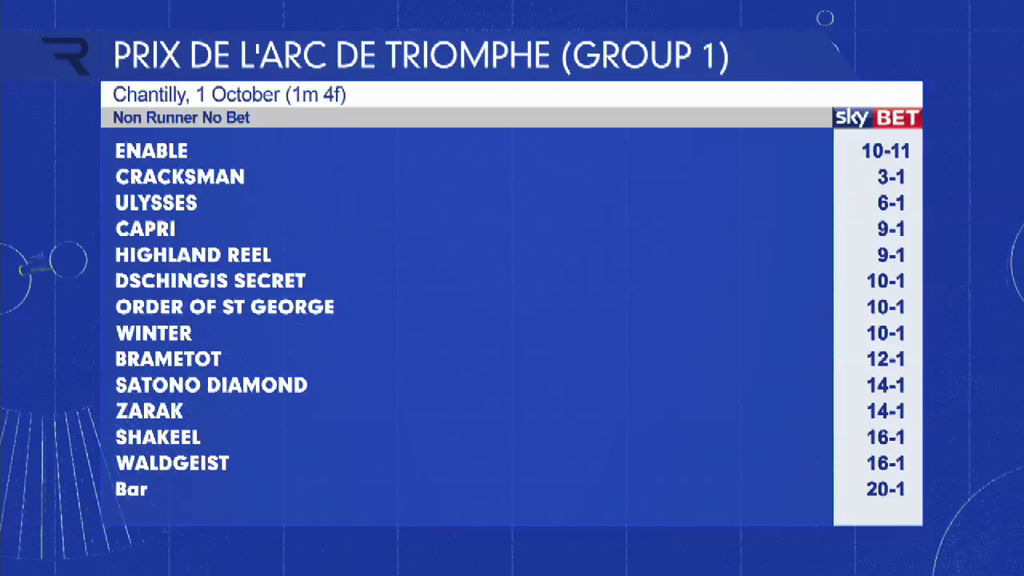 By Tom Peacock
Those clamouring for John Gosden to be running Cracksman against stable companion Enable in the Qatar Prix de l'Arc de Triomphe on Sunday have ceased to bang their heads against the door with the news he waits until next year, leaving a potentially clearer path for the champion filly to enhance her reputation ever further.
It appears that there are only a small handful in the line-up capable of upsetting her, but the combination of a large field and the troublesome Chantilly circuit means an upset is never out of the question.
Here's a guide to those left in the running.
ENABLE
Trainer: John Gosden
General odds: 4-5
One of the best middle-distance fillies in recent memory who has already earned her stripes against the colts with that marvellous King George win. With a clear run towards and through the Arc itself, she will surely confirm her superiority. Her opponents can only hope for unknown variables to take effect.
Trainer: Sir Michael Stoute
General odds: 7-1
Has been excellent over 10 furlongs in the Eclipse and Juddmonte but the Arc is on his schedule before a trip to the Breeders' Cup. He was well beaten in the King George by Enable at Ascot and, despite his robust breeding, he has still to prove he can travel in as potent fashion at a mile and a half.
Trainer: Aidan O'Brien
General odds: 10-1
Participation will presumably depend on how much say his part-owner Lloyd Williams has in terms of the Melbourne Cup. Was third in last year's Arc and arrives on the back of an easy victory in the Irish St. Leger. That, though, was not a competitive event and it is hard to say he is a better horse than he was 12 months ago.
BRAMETOT
Trainer: Jean-Claude Rouget
General odds: 12-1
Had looked the leading domestic contender after an impressive start to his season in winning the French Guineas and the Derby. All was not lost after he was well-beaten by Eminent at Deauville last month, given he had been off for some weeks, yet more was expected. While he has stamina in his pedigree, he is also unproven at the trip.
HIGHLAND REEL
Trainer: Aidan O'Brien
General odds: 12-1
As ever, the tough Irish nut is in danger of being a little forgotten here. Last year's runner-up was a bit disappointing in the King George, although he looks to have been given a break in preparation for a demanding international campaign during the winter. Does now having something to find on Enable but never one to safely rule out.
WINTER
Trainer: Aidan O'Brien
General odds: 12-1
The filly has had a fabulous year, winning the 1,000 Guineas, Irish 1,000 Guineas and Nassau Stakes before being touched off in another Group One contest, the Matron Stakes, last time after apparently missing some work beforehand. There is no doubt she has the class required but her stamina would be an unknown if she gets the green light to run.
CAPRI
Trainer: Aidan O'Brien
General odds: 16-1
The grey dug deep to win the Irish Derby at the main expense of Cracksman and again showed an excellent attitude to fend off Crystal Ocean and Stradivarius in the St Leger. The recent record of Classic winners at Town Moor in the Arc is not great and he will probably to have his game again if he is to buck that trend.
DSCHINGIS SECRET
Trainer: Markus Klug
General odds: 14-1
Lightly raced type who will revel if the Arc turns out to be a slog. Proved his worth in a domestic Group One before coming away in a slightly unsatisfactory-looking Prix Foy. As much as German runners are always overlooked, he will need soft ground to run and it must be questionable whether he is quite good enough in any event.
ZARAK
Trainer: Alain de Royer-Dupre
General odds: 16-1
No runner is better bred to win an Arc than the son of Dubawi and Zarkava, who finally picked up a Group One in the Grand Prix de Saint-Cloud. Royer-Dupre has been concerned that his charge does not much like his local track and was more satisfied when Zarak worked well in a racecourse gallop. Clearly a lurker, but one that has let his supporters down before.
SATONO DIAMOND
Trainer: Yasutoshi Ikee
General odds: 20-1
Form stacks up from the competitive Japanese scene and long targeted at the race his nation covets so much. However, his appearance in the Prix Foy could only be described as disappointing as he struggled home in fourth. His only chance rests upon an Indian summer in France, as good ground or better is clearly what he needs.
CLOTH OF STARS
Trainer: Andre Fabre
General odds: 25-1
Rebuilt after a moderate run in last year's Derby, he went right through the ranks in the early part of the season by beating Zarak in the Prix Ganay. Not seen through the summer, Cloth Of Stars resurfaced in the Prix Foy and had to wait for a gap to appear and was not given a hard time before closing into second behind Dschingis Secret. Needs to improve a fair bit, but considerable progress is not ruled out.
CLIFFS OF MOHER
Trainer: Aidan O'Brien
Odds: 33-1
Promised more than he has delivered to date, despite his fine second in the Derby. Looked more of a mile and a quarter horse, yet efforts in the Eclipse, Juddmonte and Irish Champion have been no more than adequate. Does not have the appeal of some of his stablemates.
SEVENTH HEAVEN
Trainer Aidan O'Brien
Odds: 25-1
A defeat of Found and runner-up to an on-song Jack Hobbs in Dubai gives her some hope, considering her trainer is a miracle worker. Nonetheless, off for nearly all the year with a setback and almost tailed off on her belated reappearance.
SILVERWAVE
Trainer: Pascal Bary
Odds: 40-1
Fine servant to his connections who has knocked about in domestic Group Ones for a couple of seasons now. Appeared well held in the last two Arcs and his trial performance did not indicate that he would do any better as a five-year-old.
DOHA DREAM
Trainer: Andre Fabre
Odds: 50-1
A winner of the Prix Chaudenay over a mile and seven on last year's Arc weekend but his most newsworthy appearance this year was when unseating a very unfortunate Gregory Benoist in the Grand Prix de Saint-Cloud. Two subsequent narrow defeats to Tiberian does not read as Group One-winning form.
IDAHO
Trainer: Aidan O'Brien
Odds: 50-1
Beginning to show the same resilience and durability of his full-brother Highland Reel but not there yet. Ran moderately in the Sword Dancer in America in late August and easily held by Enable on King George form.
ONE FOOT IN HEAVEN
Trainer: Alain de Royer Dupre
Odds: 50-1
Would be making a very late play as he was absent all summer and only reappeared on September 17 with a perfectly encouraging second at Maisons-Laffitte. This son of the outstanding Pride represents top connections and likes soft ground. There are worse 50-1 chances, if he turns up, but has not shown Arc-winning ability yet.
PLUMATIC
Trainer: Andre Fabre
Odds: 50-1
Has only a maiden win to show from four starts so far, and untried at the trip. Could yet be next year's horse and his supporters are really going to be trading on his trainer's reputation.
IQUITOS
Trainer: Hans-Jürgen Gröschel
Odds: 66-1
Adored by his veteran German trainer and has served him well, winning two Group Ones at home. Those races are still some way short of Arc level and exaggerated hold-up style could see him get in trouble in a big field.
LEFT HAND
Trainer: Carlos Laffon-Parias
Odds: 66-1
Last year's Vermeille winner has patches of very useful form and had some excuses when attempting to defend her crown. Connections did cause a monster surprise with Solemia in the race a few years ago and this would be of similar proportions, as most of her efforts do not really hold up.
SATONO NOBLESSE
Trainer: Yasutoshi Ikee
Odds: 200-1
Performed as pacemaker to Japanese travel-mate Satono Diamond and expected to resume those duties again here.
ANTE-POST VERDICT
If you are not excited by the Arc, well, you would not have reached the bottom of this article for a start. Perhaps this has not been the most scintillating of Flat seasons, in the middle-distance sphere at least, yet Enable has still been one to cherish as she follows in the mould of wonderful fillies such as Ouija Board and Triptych. She will draw closer to the likes of All Along and Allez France if she prevails at Chantilly and really only the vagaries of luck-in-running or a three-year-old filly suddenly going off the boil should stop her. There are chinks in the armour of most of the remainder and it is a question of finding one that could take a step forward at this stage of the year. At a general 25-1 and at 33s in places, CLOTH OF STARS is worth taking an each-way chance on. In typical Andre Fabre style, he should come on a good deal from the Prix Foy and has plenty of the right attributes.