Geoffrey Riddle has all you need to know about the Diamond Jubilee Stakes at Royal Ascot on Saturday after 18 stood their ground on Monday.
When and where? 4.20 Ascot on June 23. Live in glorious HD on Racing UK, Sky Channel 426.
What Grade? Group One.
Which Course? Straight Course.
What Distance? Six furlongs
What Prize-money? £600,000, with £340,260.00 for first place.
Ages: For four-year-olds and upwards.
Weights & Allowances: Colts & geldings 9st 3lb; Fillies 9st
Diamond Jubilee Stats and trends:
Dual winners:
You have to be a right top-notcher to win the Diamond Jubilee Stakes two years in succession. It is no surprise with a wealth of international talent coming in each year that the crown has been both hard to defend, and some of the foreign raiders have not been in a position to run twice anyway.
Right Boy was the last of six multiple winners of the race, and he also won the King's Stand Stakes in 1957. He was one of the leading post-War sprinters and also gained a pair of victories in both the July Cup and the Nunthorpe Stakes. Wesley Ward's Undrafted was the last horse to try to win the race two years in a row and was just sixth to Twilight Son in 2016.
None of this bodes too well for The Tin Man, who won 12 months ago in a post-relaid surface record time of 1m.12.02s. That performance was on good to firm ground, a going description he has won on five out of seven times.
Overseas winners:
Much as I have said in the King's Stand Stakes chapter, the average British Group One sprinter lags behind countries such as Australia and Hong Kong.
Choisir and Black Caviar both famously won the Diamond Jubilee, but Starspangledbanner also came from Australia in the care of Aidan O'Brien. Other Australian horses to run well include bridesmaid Brazen Beau in 2015, Star Witness, who came from down under to finish third in 2011 and Takeover Target finished second, third and fourth in successive years.
Were O'Brien's Merchant Navy not a Southern Hemisphere three-year-old, he would be receiving weight from his elders and would have a massive chance. Dual Australian One winner Redkirk Warrior's claims are obvious.
Cape Of Good Hope became the first horse trained in Hong Kong to win in Britain in 2005 and Hong Kong's Gold Fun filled the runner-up spot in 2016.
There are indications, too, that American turf sprinting is on the up, with Lady Aurelia and Undrafted striking at Royal Ascot, and horses such as Breeders' Cup Turf Sprint winner Stormy Liberal in America leading the way, and Long On Value running well at Meydan last season. US horses have fared well in behind in this race, too, with Kinsale King running third in 2010 and Cannonball coming second for Wesley Ward in 2009. Bound For Nowhere, who represents Ward, should not be dismissed lightly.
Foreign winners:
Ireland (17) – Solonaway (1949), Abadan (1950), Bun Penny (1961), Majority Blue (1965), Current Coin (1966), Welsh Saint (1970), King's Country (1971), Saritamer (1974), Swingtime (1975), Sweet Mint (1978), Thatching (1979), Kearney (1980), Committed (1984), Big Shuffle (1987), College Chapel (1993), Starspangledbanner (2010), Slade Power (2014)
Australia (2) – Choisir (2003), Black Caviar (2012)
Hong Kong (1) – Cape Of Good Hope (2005)
USA (1) – Undrafted (2015)
Betting:
Never fear an outsider. Since the turn of the century there have been just three winning favourites, and Black Caviar almost lost at 1-6 in 2012.
Winners such as Kingsgate Native and Les Arcs at 33-1, Society Rock at 25-1, Art Connoisseur and Superior Premium at 20-1, Malhub at 16-1 and Undrafted at 14-1 since the turn of the century shows it pays big time to look beyond the obvious. There have been 24 favourites or joint favourites successful in the 71 runnings
Age:
The race was elevated to be a Group One contest in 2002 and since then it has changed shape. Prior to 2002 three-year-old winners were commonplace, but since the introduction of the Commonwealth Cup three years ago it is now all over for the Classic generation - it is four-year-olds and upwards. Cape Of Good Hope proved that you could win this race with a horse aged seven too.
1

Key stat: Only one horse - the remarkable Kingsgate Native - had not previously won over 6f prior to Diamond Jubilee success since 1990.
The Diamond Jubilee - the last ten years:
2017 – The Tin Man:
There were four overseas raiders in the Diamond Jubilee, but it was The Tin Man who denied them all in the feature sprint of the week.
It was a close-run thing, mind, and The Tin Man and Tom Queally had to survive a stewards' inquiry to gran the spoils.
The five-year-old son of dual King's Stand Stakes winner Equiano was held up early in the six-furlong event but, having threaded a passage towards the far-side rail at the two furlong pole, the imposing gelding stayed on tenaciously despite drifting left to score from the fast-finishing Tasleet. Henry Candy's Limato, the 2-1 favourite, was the meat in the sandwich between the two and was squeezed back in to third.
It was a sixth run at the Berkshire track for the five-year-old, and a third win. It took The Tin Man's record on good to firm ground to five wins from seven, and the win was achieved in record time of 1m.12.02 (since the track was re-laid in 2005).
"I am a very relieved man," trainer James Fanshawe said, following his second win in the race after Society Rock. "I am extremely grateful for The Tin Man, for giving a fantastic performance. This horse doesn't tell you a thing back home. He just has a buck and a kick and does none of his homework."
2016 – Twilight Son: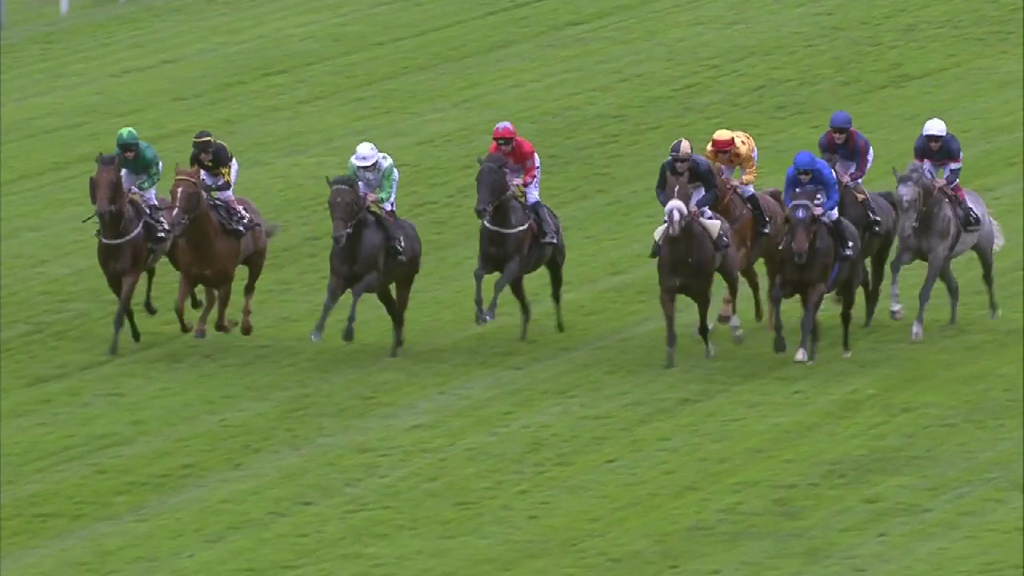 Twilight Son did not warm up for his win in the Diamond Jubilee Stakes at all well.
Henry Candy took his charge to Newbury for a piece of work prior to Royal Ascot and it ended fairly miserably. It did not deter the moody four-year-old from pulling out all the stops to deny Hong Kong raider Gold Fun by a neck to give the Oxfordshire trainer his first win at Royal Ascot since Pipedreamer in the Royal Hunt Cup in 1979.
"I took him to Newbury recently to do a piece of work with him and he decided that he wanted to do two bits of work," Candy explained.
"He got rid of his work-rider and did a piece of work himself and then we did what we'd come there to do. Looking at him now after the race, he doesn't even want to come back! He's a strong character. After York (where he finished fifth in the Group Two Duke Of York Stakes behind Magical Memory), I realised that he probably needed quite a bit of work and I was quite hard on him.
"Today showed the results of that – he's certainly stayed on well enough. Being me, I've never come here thinking we'll ever have a winner! We've been close a good few times in the past and it's nice to get the job done finally – we've had to wait for it. I was thinking during the race that he was going to be third."
2015 – Undrafted: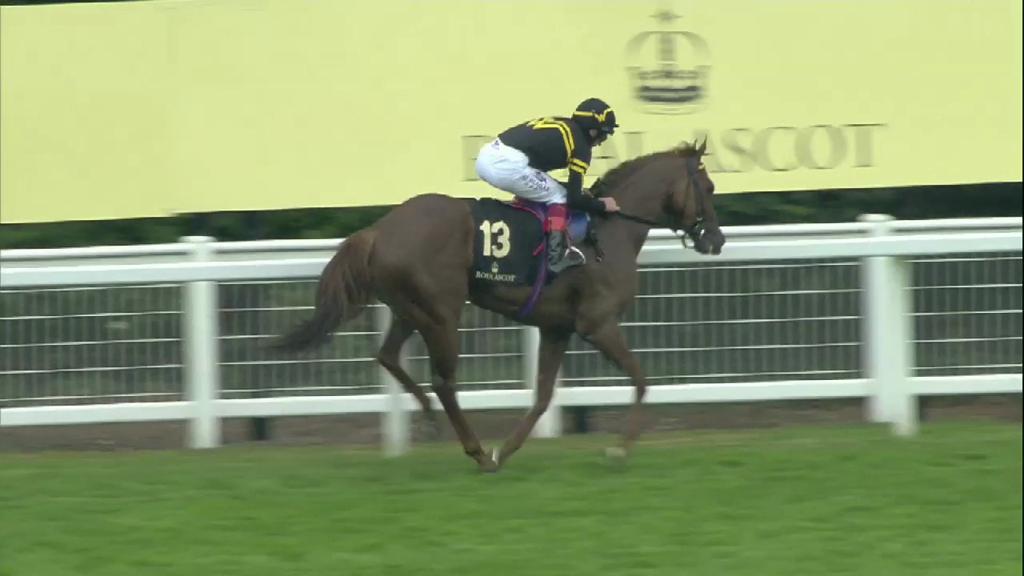 Wesley Ward was better known for saddling juvenile winners at Royal Ascot but Undrafted made up for the defeat of the US trainer's Cannonball in 2009 to become Ward's first older winner at the meeting under Frankie Dettori.
Ward was not in a celebratory mood afterwards, however, as he had spent the night in a local hospital due to his daughter being taken ill.
"We were in Frimley hospital all last night," he said.
"I don't know what happened but my daughter got a touch of the bell's palsy. It's unbelievable and really special for this little girl, she really wanted to come out here and we were all night in the hospital. Fortunately enough, Derrick Smith sent over a wonderful doctor and we are here today to enjoy this special moment. It didn't look like we were going to make it but we did.
"I am just elated. This is the biggest race I've won – I've won Breeders' Cups and races here in the past, but to come here and be presented with a Group One trophy by the Queen was such a fantastic experience.
"The horse has been training unbelievably well and every week has been firing bullets at Keeneland, but I'll tell you what, Frankie is superb. You can have a Porsche against Porsches, but you still gotta have the right guy (at the wheel) and this is a magical guy. He's just a cool sitter and a go-getter, as they say."
The US raider was called Undrafted after NFL player Wes Welker, who was famously not picked in the draft.
2014 – Slade Power:
We all dream of landing a touch, and Edward Lynam hit the jackpot when Slade Power followed up Sole Power's win in the King's Stand Stakes earlier in the week.
Lynam had a cheeky £500 double on the two horses, and was basking in more than victory in the winners' enclosure afterwards.
"Don't ask me to compare them – I've got three daughters and you'd get an easier answer if you asked me to compare them," he said. "I had a monkey at 66-1 on the double this week, so that beats working!"
When Sole Power won the King's Stand Stakes the year beforehand, Lynam's wife, Aileen, was stuck in hospital with serious injuries. Not this time.
David Power, whose wife Sabena owns and bred the winner, said: "It was marvellous. The greatest thing of all with it happening this week is that Eddie's wife Aileen is able to be here. Last year, when Sole Power won the King's Stand, Aileen was at home with five fractured vertebrae in her back and three broken bones in her neck, so she couldn't travel. It's great to have her here sharing in all this."
2013 – Lethal Force: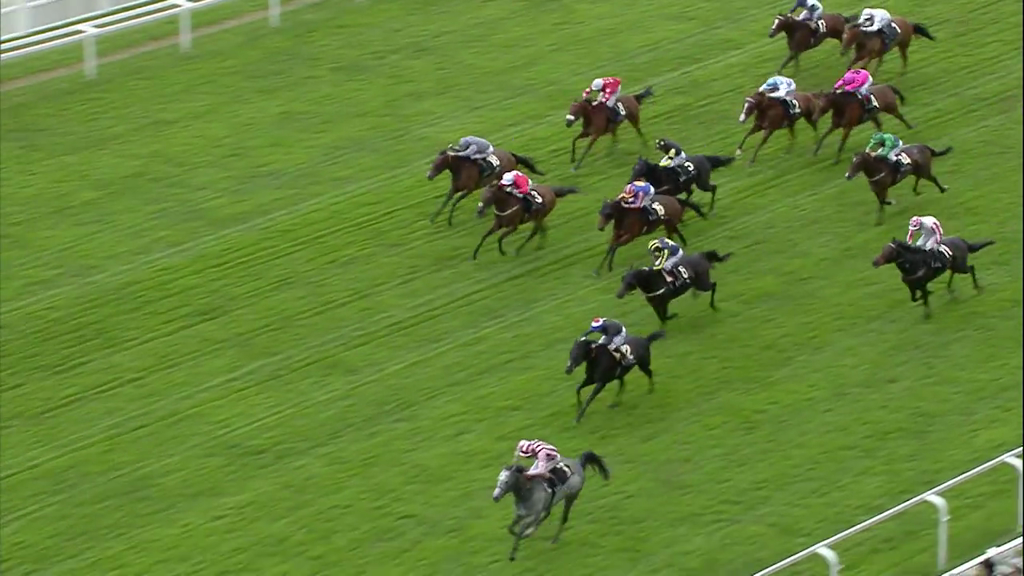 Society Rock tried in vain to become a rare back-to-back winner of the Diamond Jubilee Stakes but was just held off by the front-running grey Lethal Force.
Whereas in other jurisdictions jockeys are required to nominate how they are going to ride a horse in a big international race, for Adam Kirby it was more of a case of Plan B.
"The only man I've got to thank is Clive Cox," Kirby said.
"I said I was going to drop the horse in and Clive told me to do whatever I wanted. Lethal Force hit the gates well and was doing it all so easily. It wasn't the way I'd intended to ride him but he has a very high cruising speed."
2012 – Black Caviar: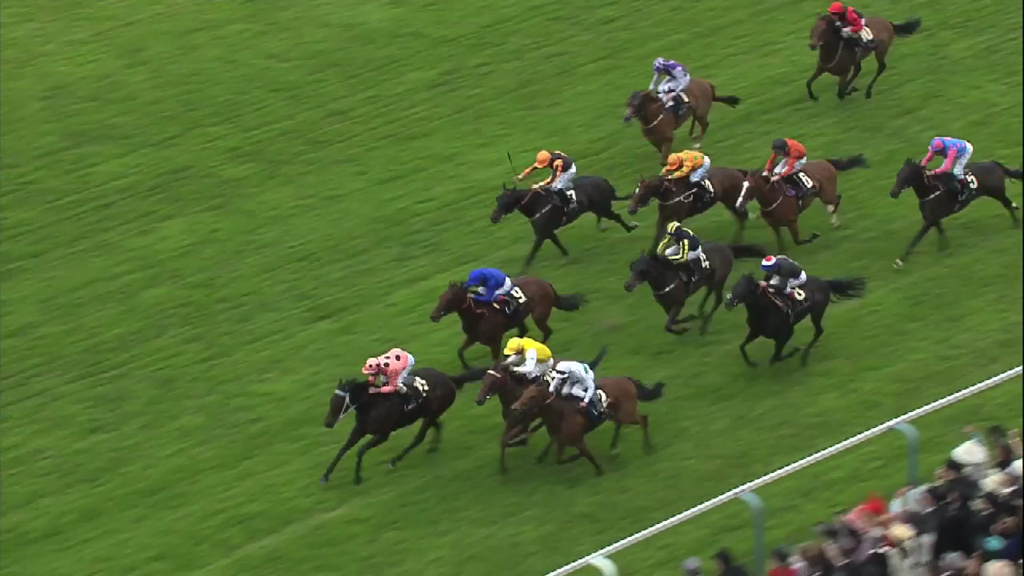 "Black Caviar needs the line. He's easing up on her! And he has just scraped in! He nearly blew it!" Simon Holt, June 23, 2012.
Black Caviar extended her wining streak to 22, but only just.
The Australian mare came with all the credentials, and none more so than a boast that her fastest 200-metre split was 9.98sec, making her the first horse to have broken 10 seconds for 200 metres in an official thoroughbred race.
An estimated 5,000 Australians had made the journey to Berkshire, only to see Luke Nolen's brain implode.
The jockey had said beforehand that Ascot's straight, uphill six furlongs would suit his mount but it did not suit her pilot as he stopped riding out in the shadow of the post. Black Caviar won by a head from French raider Moonlight Cloud. She was sent off at 1-6.
The stewards spoke to the rider afterwards in order to point out his responsibilities but Nolen was quick to blame himself. "I probably just underestimated the testing track of Ascot," he said.
"I was kind of late and she had enough and that big engine throttled right down.
"It's quite unfortunate because it is going to overshadow what was a very good win - they are going to talk more about my brain-fade rather than the horse's fantastic effort.
"I underestimated the testing straight six here but we got away with it.
"We won and it doesn't matter, does it? It may overshadow what was a fantastic run by the horse. Hopefully, my performance hasn't overshadowed what was a great effort by the whole team."
Pam Hawkes, who came up with the mare's name and was the first to receive the winner's trophy from The Queen, did not care a jot at the margin of victory.
"This has been like the grand final - she's taken us on a marvellous journey," she said.
"We have met The Queen twice in one day, and apart from the Duke of Edinburgh there cannot be many people who can say that. We've had a great day and it's been very emotional.
2011 – Society Rock: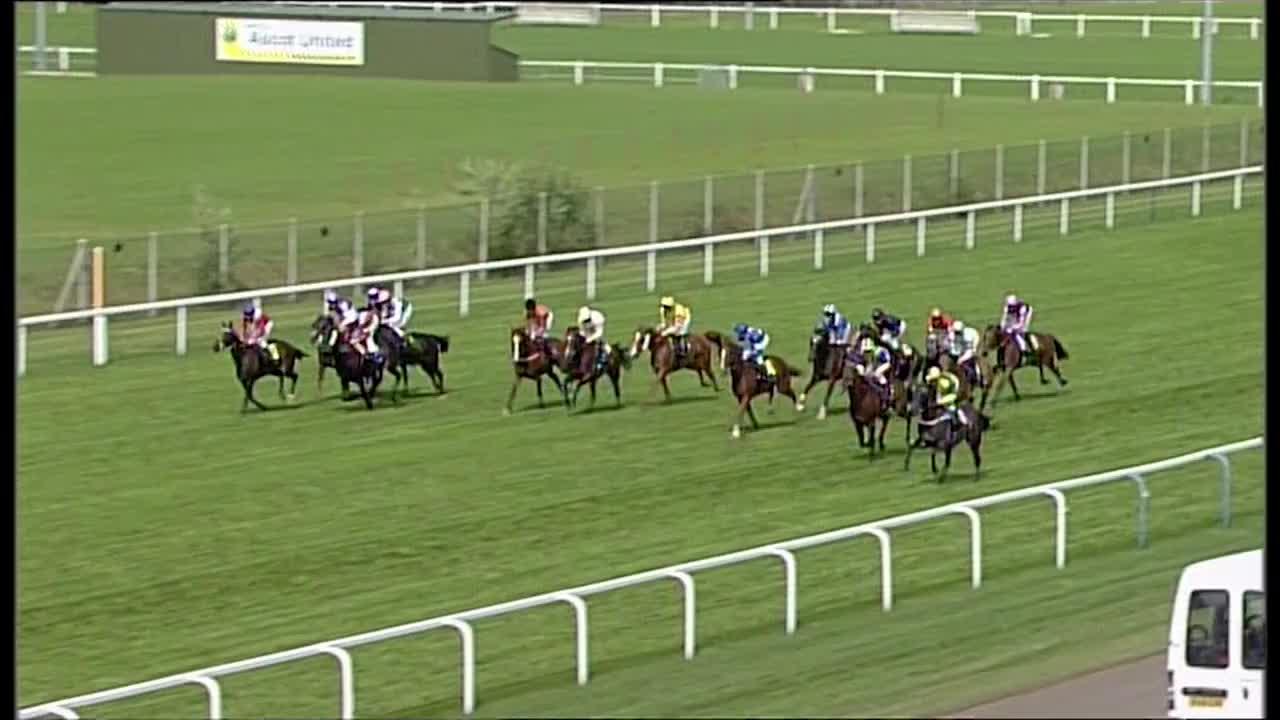 Society Rock had finished a game second to Starspangledbanner 12 months previously and made a mockery of his 25-1 price when powering to a half-lengths success over Monsieur Chevalier.
Society Rock had finished tenth on his seasonal reappearance when the 11-4 favourite for the Abernant Stakes at Newmarket in April, before finding Bated Breath too good in a Conditions race next up.
It was a first Royal Ascot win for Pat Cosgrave, but owner Simon Gibson missed the chance to meet The Queen.
"It's fantastic result for his owner Simon Gibson. He's not here because he had a fall down his stairs and banged his head. He's recovering and this will make him feel a lot better.
"It's great for Pat because he has been riding for me for the past year and he has ridden a fantastic race today."
Society Rock then went on to finish fifth to Black Caviar a year later, and was runner-up behind Lethal Force in 2013.
2010 – Starspangledbanner:
As a son of the hulking Choisir, Starspangledbanner was entitled to run a huge race. All the hype about the Australian import at Aidan O'Brien's Ballydoyle facility was scarcely believable but he emerged out of the same stall as his sire and under Johnny Murtagh he proceeded to make all in devastating fashion.
When Murtagh first rode Starspangledbanner on the gallops in May, O'Brien had warned him to equip himself with a 'seatbelt and a parachute,' as he was capable of running sensational times.
The trainer sported a broad grin afterwards, and revealed that Starspangledbanner had been undercooked when fifth in the Duke Of York a month beforehand.
"Before York he was only half-speeding but his half-speeding was unbelievable," he said.
"He was just ready to start at York and got tired but his work since then has been incredible - his second last furlong in his final piece of work was just under 9.5 seconds, which I have never seen before.
"When I horse can do that kind of work, we've never seen it, and he is without doubt the fastest sprinter I have trained. To go that fast, furlong by furlong, you don't record those kinds of time - we have never recorded them, anyway.
"Hopefully he will go for the July Cup now and we would really look forward to that. He is an incredible sprinter."
Starspangledbanner went on to win the July Cup, but then did not win another race. He was then retired to stud, where he proved sub fertile, and was pressganged back in to service in 2012 but did not win in six starts.
2009 – Art Connoisseur: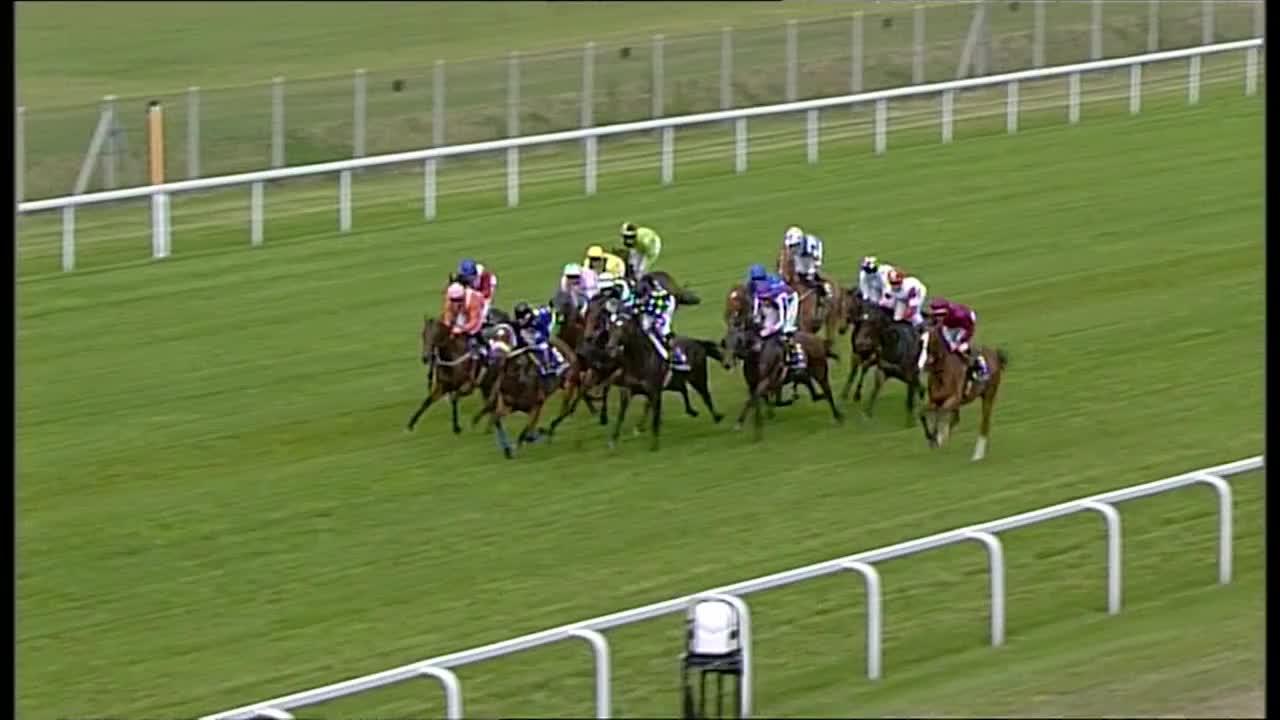 Michael Bell owned a share in the Coventry Stakes winner and throughout the winter he wondered whether it had been the right decision to bat away big money offers for the son of Lucky Story.
Art Connoisseur had cracked a cannon bone injury on his final start of the year and after racing too freely in the Free Handicap in Newmarket in which he finished seventh, he had been held up with a splint problem.
An appearance at the royal meeting was touch and go but two swims a day and three bits of work later, and Art Connoisseur headed to Royal Ascot, where he was sent off at 33-1, having not won since he last set foot on the track 12 months previously.
Held up in rear, Tom Queally, who had to be parachuted in to replace the suspended Jamie Spencer, switched him left to the stands' rail and they motored home to deny Wesley Ward's Cannonball by a neck.
"I thought it was a boy against men today but he answered every call and Tom gave him a peach of a ride," Bell said.
"It has been a great season, Richard Green and I - I own a share in him - turned down a lot of money for him after he won the Coventry and I was slightly regretting it over the winter but now it looks the right decision."
"About a month ago, things were going to plan and then he popped a splint on his off-fore and it was very sore. When it first happened I thought 'Oh God', as a splint's quite serious. But I took the decision there and then just to send him swimming.
"We had to swim him for about a fortnight, twice a day, and he came back and did three bits of work. He worked with an 80-rated handicapper, and it was difficult quite to know if he was back to his best or not."
2008 – Kingsgate Native: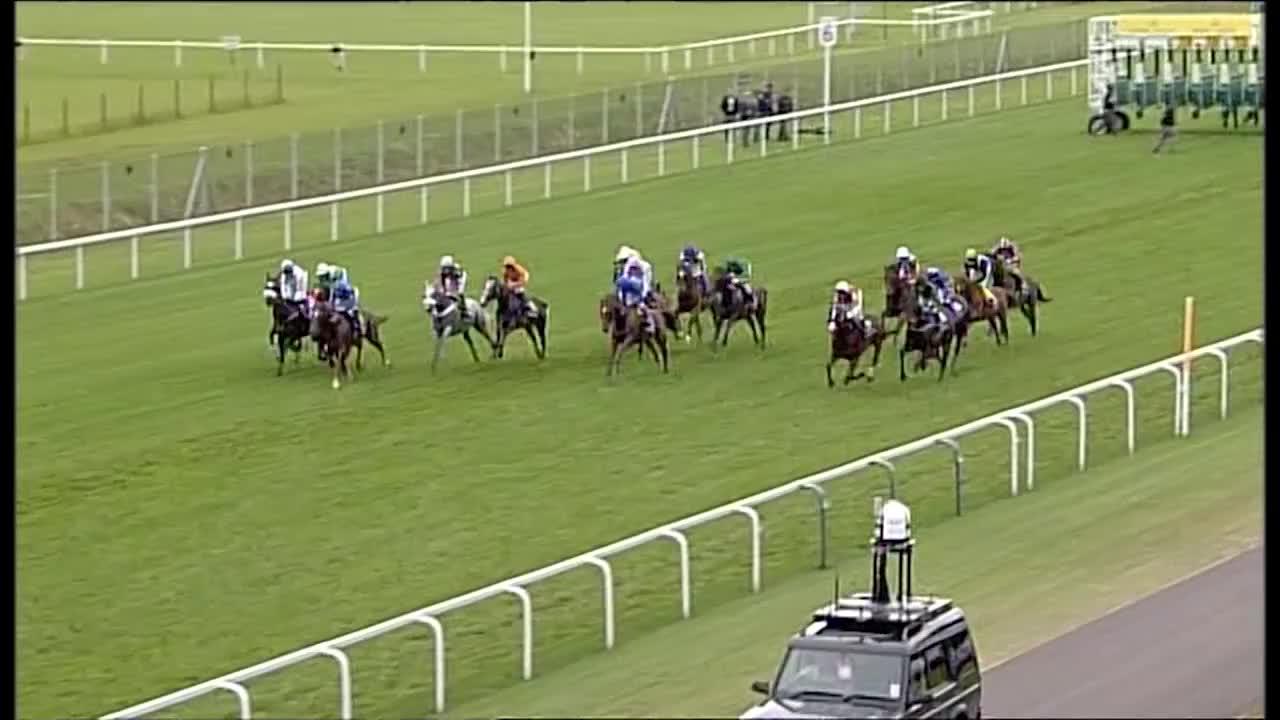 Kingsgate Native had finished tenth in the King's Stand Stakes on the Tuesday but roared home to post the performance of his life in what was then known as the Golden Jubilee Stakes.
He had finished second at 66-1 in the Windsor Castle Stakes on his first start as a juvenile before finishing as the runner-up in the Molecomb at Glorious Goodwood.
He then lost his maiden tag in style when he flashed home as the first two-year-old winner of the Nunthorpe Stakes since Lyric Fantasy in 1992 before he finished second to Benbaun in the Prix L'Abbaye at Longchamp.
The King's Stand Stakes was Kingsgate Native's first start of the season and he ran with the choke out.
Trainer John Best told owners Cheveley Park that they had nothing to lose on Royal Ascot Saturday and having saddled Flashmans Papers to win the Windsor Castle earlier in the week the 33-1 about Kingsgate Native gave the trainer a nice little 3,433-1 double.
"I thought that the 33-1 and 40-1 that were available were crazy prices about Kingsgate Native for what he had done last year," said the trainer. Best added: "He could go to stud at the end of the year - a decision will have to be made to keep him in training after then. He should make a good stallion."
Kingsgate Native was sent to stud but despite trying to cover 30-odd mares he was sent back in to training with Sir Michael Stoute and then Robert Cowell before retiring in 2016 aged 11.