Watch a full replay of the Coolmore Nunthorpe Stakes won by Marsha and Luke Morris at York on Friday and reaction from the winning jockey and assistant trainer William Butler.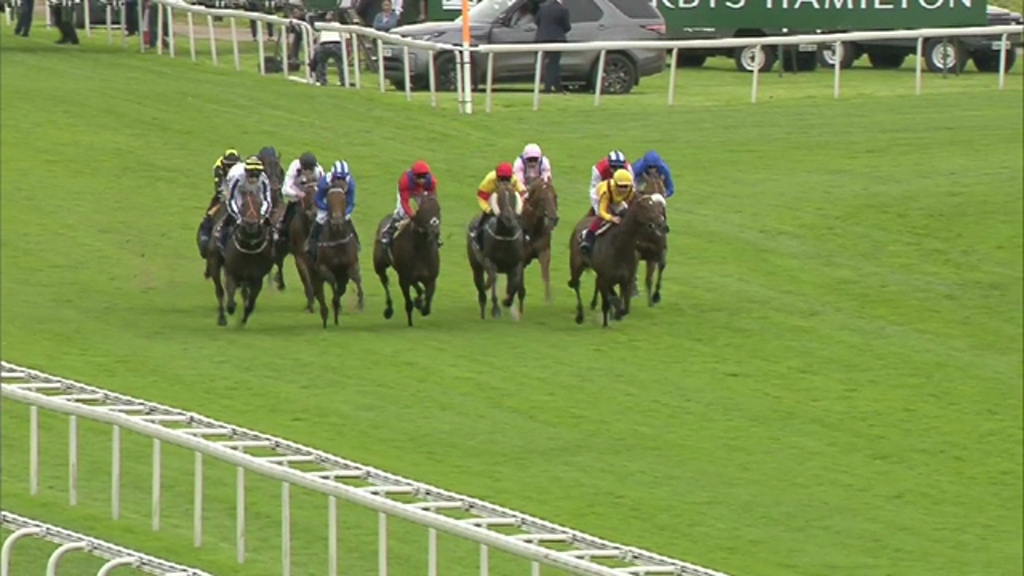 By Andy Stephens at York
Frankie Dettori was left red-faced and apologetic after he mistakenly thought he had won the Coolmore Nunthorpe Stakes aboard Lady Aurelia at York on Friday.
Dettori saluted to the crowd and put his finger to his lips at the end of a compelling renewal of the Group One sprint. Wesley Ward presumed his jockey knew best and so did thousands of thrilled racegoers but Marsha, away to his right, had nailed him on the line under a far less animated Luke Morris.
The judge, Di Clark, paused for effect before revealing that No 10 had triumphed by a nose. It might as well have been half the track for Dettori, who had probably been planning a record-breaking flying dismount.
After sliding from Lady Aurelia's back, he hugged the flying filly, apologised to her and told Ward "I'm in shock, I thought I'd won a neck".
His miscalculation was the middle leg of a miserable treble. In the previous race his mount, Daban, broke down but was later reported comfortable in racecourse stables, and in the following race, Doswell, was withdrawn at the start after becoming upset.
It is safe to say the Italian has had better days.
One man's misery meant unadulterated joy for the 10,000 members of the Elite Racing Club, who own Marsha, though perhaps not for much longer as the plan is for her to be go to the sales in the winter.
Marsha denies Lady Aurelia in a photo finish to give Luke Morris his first British Group One. (FocusInRacing)
After eclipsing Lady Aurelia and Battaash, who faded into fourth, the magnificent looking filly will be worth considerably more.
Twenty of the syndicate, chosen by a random draw, were in the winner's enclosure to savour the success of the 8-1 shot but Sir Mark Prescott, the trainer, was absent.
The doyen of Newmarket trainers was instead inspecting yearlings in Ireland for long-time patron Kirsten Rausing, from where he said: "They are two very good fillies and I'm very lucky it went my way.
"All four of my runners this afternoon have been in photos and the other three have been beaten.
"I think she's been tremendously consistent, she's been the best of the rest every time, really. To finish in front of Lady Aurelia on a flat track is a great performance.
"Lady Aurelia is a marvellous filly, so to be able to say we have arguably the fastest filly in the northern hemisphere, we are very lucky. She probably won't run again before the Abbaye now.".
Knowing his dry sense of humour, he would have taken mischievous delight in Frankie's faux paux but he resisted saying so.
Dan Downie, manager of Elite Racing Club, said: "That was amazing. Coming here we were happy she was as well as we'd ever had her. She'd never looked better.
Morris acclaimed Prescott as a "genius" but was also taken in by Dettori's celebration. "When I saw Frankie put his arm up, I was gutted as I thought he had won, then someone said congratulations to me and it turned into jubilation," he said.
"Her performance in the Palace House was exceptional, but she's been a bit below par since. Going down today, though, she felt more on her mettle and more alive.
"It's fantastic for the owners. It's great for the man in the street to be involved with a horse like this."
And the woman in the street, because Marsha was named as a yearling after a competition among Elite members won by Marsha Holliman, from Newmarket.
"It's my name and I thought why not? I thought it would be a shrewd move," the retired beautician said. "We love her immensely and we've been so lucky to have her.
"All I ever hope is that she comes home safe and I spend most of my time in tears watching her. She's progressed and progressed. Sir Mark is the master - he's the main man."
Did Marsha back Marsha? "I certainly did, although I also had a sneaky bet on Battaash as well to hedge my bets."
Battaash was the disappointment of the race - beaten a total of five lengths into fourth - and the writing was on the wall before the gates flew open.
Easy to back in the market, he played up at the start after being early to post and had to be hooded for entry. In the race itself he was in contention a furlong from home but then faded, his unheralded stablemate Cota Glory depriving him of third.
As Dettori headed for the sanctuary of the weighing room, Ward was left to reflect on Lady Aurelia's agonising near-miss - which came two years after his Acapulco was also pegged back in the final stages of the Nunthorpe.
"I can make no excuses at all - you can't take anything away from the winner, she beat us on the squares," he said.
"Unfortunately it was by the hair on my chinny, chinny chin but she got us.
"I thought she'd won because Frankie was so excited. I was with him there for a second, but that's racing. We continue on to hopefully have more great days but two seconds in this race is tough - one of these days I'll have to get it, hopefully next year."
Lady Aurelia will head next for the Breeders' Cup. Expect Dettori to resist celebrating should there be another close finish.