Racing UK's Andy Stephens sat down with Harry Cobden, one of two teenage jockeys riding in the Betfair Chase at Haydock on Saturday, to discuss the 11-year-old going for a joint-record fourth win in the Grade One contest, young jockeys coming through the ranks and his relationship with Paddy Brennan.
(Racingfotos)
By Andy Stephens
Harry Cobden had barely left primary school when Cue Card announced himself on the big stage with a stunning victory at the Cheltenham Festival in 2010.
That giddy March afternoon the chances of the pair combining in one of the biggest jump races of the season, almost eight years later, must have been several million to one but on Saturday the worlds of the aspiring teenage jockey and veteran equine hero will collide when they line-up together in the Betfair Chase at Haydock.
It will be the first time Cobden has ridden in a Grade One race over fences and he could hardly have a more high-profile partner.
Cue Card represents jump racing royalty and, almost 12, the desire for him to bow out in one piece - so close to the finish line in terms of his wonderful career - triggered calls for him to be retired after his heavy fall in the Charlie Hall Chase at Wetherby earlier this month.
It was Cue Card's third tumble in the past 18 months.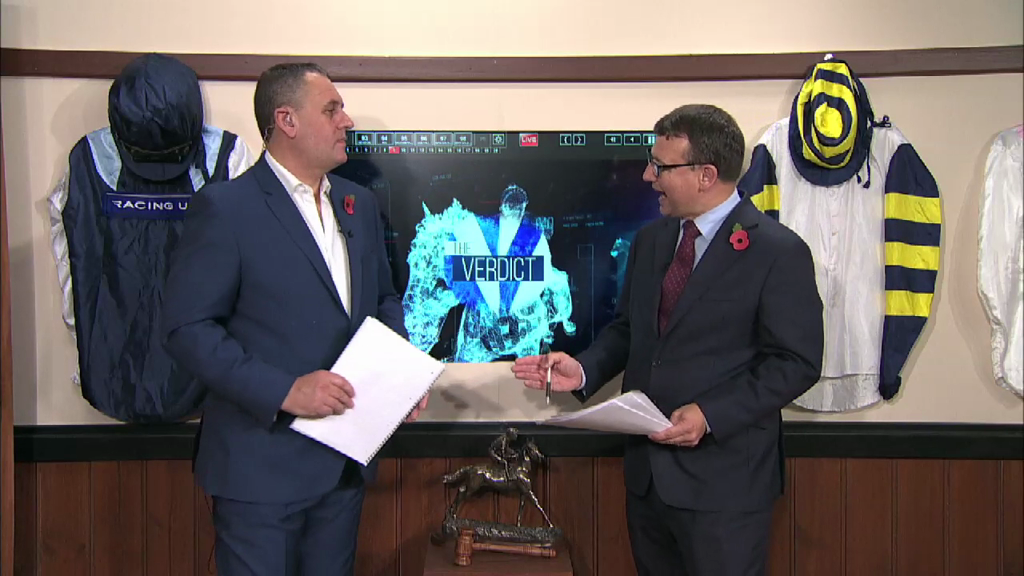 The response of his connections was to keep calm, carry on, dispense with the services of Paddy Brennan and turn to one of the rising young stars of the weighing room.
As a consequence, 19-year-old Cobden has been thrust into the spotlight but if he is feeling any big-stage nerves then he is making a good job of masking them.
If anything, a couple of getting-to-know-you exercises with Cue Card has left him relishing the opportunity of partnering the nine-time Grade One winner who is seeking to equal Kauto Star and win the Betfair Chase for a fourth time.
"He was full of himself when I rode him around Wincanton before racing a week or so ago. It was a gentle canter but he felt like a six-year-old," Cobden told Racinguk.com.
Cobden has ridden 14 winners from 61 rides for Colin Tizzard this season
(Racingfotos)
"I'd schooled him a few days earlier, too, and he was so enthusiastic - really up for it. He gave the first fence two foot and the lad who rides him every day says he still pulls coming up the gallop every day.
"He's a real hardy, tough horse who takes his races really well. Fingers crossed we don't have any more dramas like those which have already happened and it all goes well.
"My main aim is to get him jumping, enjoying himself and to run a good race. I know the public's affection for this horse and nobody likes to see him on the floor. It would be a dream come true if he were to win."
It is rare for a young jockey to be on such a celebrated horse and it adds to the sense that there is soon going to be a significant changing of the guard in the jockey ranks. In addition to Cobden there are other gifted young riders making waves such as James Bowen, Mitchell Bastyan and Bryony Frost. Jack Kennedy, another teenager, will be riding Outlander, the only Irish challenger in the six-runner field.
"There some fantastic young jockeys coming along - good claimers like Mitchell, Bryony and then people who have just lost their claims like David Noonan and Sean Bowen," Cobden says.
"They are all riding winners and doing well. We all get on with each other, getting lifts together and things.
"Some of the more experienced jockeys are helpful, others keep themselves to themselves. But I'm pretty sure if you went and asked any of them for advice they would give it."
Harry Cobden, pictured here on Brio Conti, has ridden 15 times at Haydock for two winners
(Racingfotos)
Bowen and Frost came from families steeped in the sport but Cobden is from a farming background where racehorses did not feature. None of his immediate family - mum Sarah, dad William or brother James - have been involved in racing and there is no chance of his sibling ever upstaging him.
"James can't stand horses but follows me a bit," Cobden says before revealing his own interest in all things equine was sparked by a couple of hunters who resided on the Somerset beef farm where he grew up and still lives.
His parents indulged his interest by buying him a racing pony at the age of nine and from then on he was hooked and always wanted to become a jockey.
The one massive slice of fortune he had in achieving his goal is that a regular rival on the pony racing circuit was Megan Nicholls, daughter of 10-time champion trainer Paul whose yard at Ditcheat is just ten minutes down the road from the Cobden farm.
"I was run of the mill at school - more interested in playing rugby on a Saturday than sitting in a maths exam on a Tuesday," he says. "I got by, did what I had to do, but really my focus was on horses and farming.
"I rode against Megan at weekends and one day, when I was 13, Paul invited me to come and ride out for him if I wanted to. The next week I took him up on it and kept going back. It has all progressed from there."
Six years later they are still together but before linking up with the serial champion Cobden had been a regular at the yard of Ron Hodges with one of his motives being to "try to earn a bit of money in the school holidays".
His entrepreneurial spirit remains and he has invested some of his earnings in cattle and land.
"I bought a 13-acre field and had 60 cattle at one stage but now I've got only 20 left," he reveals. "I'll probably look to buy a few more this winter and then sell them on."
As a good-looking and successful sportsman, you would imagine Cobden would be a potential magnet for girlfriends but he adds with a smile: "I won't be spending my money on alcohol or women. I've never had much of a party life. I like the odd night out here or there but I imagine I'm a bit steadier than your average 19-year-old."
His gain with Cue Card was Brennan's loss. The latter won five Grade One races mixed in among the tumbles and has chosen to keep his own counsel on his services being surplus to requirements.
Brennan treasured Cue Card and many believe he has been hard done by, but it seems he bears no malice toward a replacement who is almost half his age.
"Paddy's been an absolute gentleman about the situation and said 'if you want any help I am more than happy to give you any'," Cobden explains. "He's been the ultimate professional and I cannot thank him enough.
"I suppose if I didn't ride Cue Card, then someone else would. That's horse racing for you, isn't it? We've got different styles but tactics wise I imagine I will keep it similar to how he won last year."
Two winners at Cheltenham's November meeting last weekend have helped last season's champion conditional rider chalk up 30 victories this campaign. One of those wins at a sodden Prestbury Park was for Nicholls, the other for Tizzard.
"Riding such wonderful horses for Mr Nicholls and Mr Tizzard probably won't sink in until six months time when I'm rattling around Plumpton on outsiders," he says. "I'm more than happy with the way things are going. I just want to keep ticking along, take it day by day and try to do the best I can."
Cue Card's wonderful story cannot have many more chapters to run. Cobden's career also has the potential to scale great heights and it is only just beginning.
HOW HARRY COBDEN AND CUE CARD COMPARE:
Age: Cobden 19 v Cue Card 11
Home: Cobden - Somerset v Cue Card - On the border of Somerset/Dorset
Years spent racing under Rules: Cobden 3 v Cue Card 8
First win: Cobden April 19, 2015 (Ulck Du Lin) v Cue Card January 25, 2010 (Fontwell)
Prize money won: Cobden £1.46m v Cue Card £1.37m
Grade One wins: Cobden 1 v Cue Card 9
Cheltenham Festival wins: Cobden 0 v Cue Card 2
Haydock wins: Cobden 2 v Cue Card 3
WHAT THE TIZZARDS SAY:
Colin Tizzard on Cue Card:
"He is still at the peak of his powers, I've got no doubt about that. He's done more for our yard than probably any horse ever will and we'll look after him. Racing is what he loves doing and we love racing him. The day we think he's on the wane we will stop."
Joe Tizzard on Harry Cobden:
"Harry rides for us a lot and he is a young confident man who sits quite quietly on a horse. When we told him his whole face lit up. He is so excited. We just want somebody to go on there with no negative thoughts. Just go out there and drop his hands and enjoy it and have that pleasure of riding Cue Card. I think they will get on really well."
Joe Tizzard on Cue Card:
"We took him to Wincanton recently because we wanted to take him for a day out. He's had three horrible falls now and every race we run him in is a hard one. We wanted to take him there just to enjoy it. He's in really good form. Had he not fallen last time he would have run a massive race and we would be going to Haydock with a lot of confidence as that is where he puts his best performances."