By Andy Stephens
There were electrifying scenes at Tattersalls on Thursday when Godolphin outbid arch rivals Coolmore and paid £4.2 million for a yearling by Galileo out of Breeders' Cup winner Dank.
The two titans of the sport locked horns shortly before 2.30pm on the final day of the elite Book One sale in Newmarket for Lot 418 and, with neither backing down, the price of the 19-month old horse, already named Gloam, soared to record heights.
"Hard to find a nicer filly, isn't it?" the auctioneer suggested as the bidding passed the three million mark but he did not need to offer any encouragement. By this time, it had become evident that Sheikh Mohammed was prepared to go to almost any price to acquire her.
Initially, bloodstock agents David Redvers and Kerri Radcliffe had duelled for the filly and took her price to 2,300,000gns.
The game changed when John Gosden, representing Sheikh Mohammed, entered the fray. He stepped in with a bid of 2,400,000gns - roughly what Enable had scooped for her connections when winning the Prix de l'Arc de Triomphe at Chantilly on Sunday.
Redvers and Ratcliffe bowed out but then Coolmore entered the arena and the figures flew. The pace was relentless to the 3,500,000gns mark, when a conference began in the Coolmore bidders' row.
A telephone call was made and more bids produced but another 500,000gns later the hammer fell. Gosden had secured the prize.
The price makes her the most expensive yearling filly sold in the world since Al Naamah realised 5,000,000gns at Tattersalls in 2013. She also becomes the second most expensive yearling filly ever sold worldwide.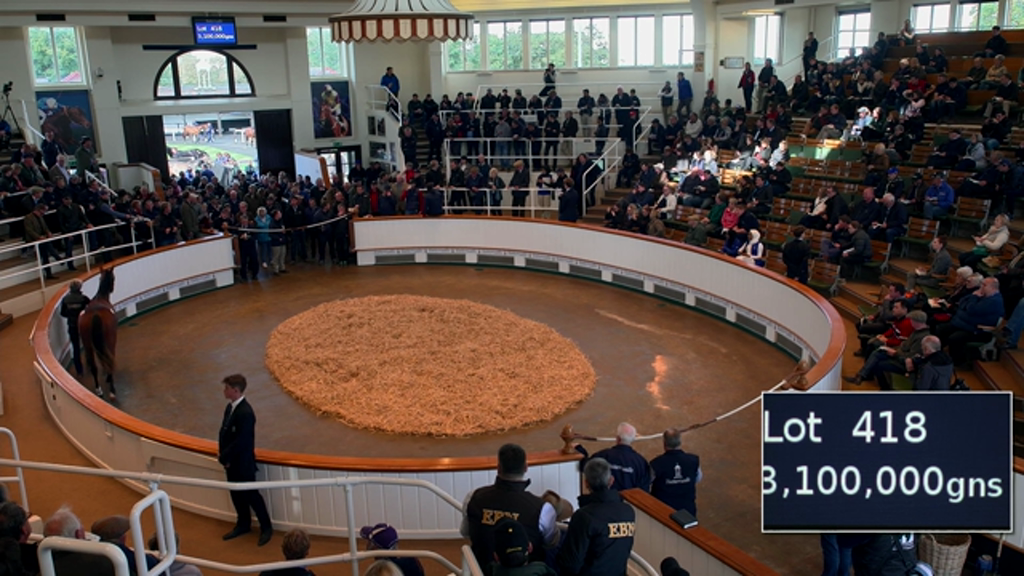 "She is from a proper owner-breeder and was clearly an obvious one to go for," Gosden said moments later. "Obviously lots of people wanted her: fillies do have both racing and breeding options.
"She is an outstanding filly and to produce one like her - particularly a first foal – is an incredible achievement. It is not easy to do."
The sale provided great theatre with Gloam (the time of day following sunset), the first foal of Dank and attended by a female handler, gently doing laps of the famous sales' house oblivious to the superpowers grappling to claim her.
Not so very long ago, of course, such scenes would have been unthinkable with Godolphin having spent the past decade not buying the stock of stallions by their biggest rivals. Galileo? Not today, and the door was slammed shut.
An unexplained shift of thinking in recent weeks means that is no longer the case. If you cannot beat them, join them? Sheikh Mohammed now seems prepared to sign massive cheques to tap into the bloodline of Galileo, especially when there is a champion dam proven on both sides of the water also involved in the chemistry.
The chances of Gloam recouping her price tag on the racecourse are, of course, slim to zero. By way of comparison, the mighty Frankel won just shy of £3 million during his flawless 14-race career.
However, as a broodmare she could be priceless. And, in any case, this did not seem just about her long-term potential - more a statement of "if I want it, I will have it" by her new owner.
Consignors everywhere will be rejoicing and do not think Coolmore will have departed Newmarket with their tails between their legs. After all, they still have the goose, Galileo, laying all the golden eggs and exchanges like those on Thursday means the super sire's fee is not going to dip any time soon.
Gloam is the second highest-priced yearling to ever be sold in Europe and it is the second time in four years that Jenny and Liam Norris, of Norris Bloodstock, have sold a horse for 4,000,000gns having consigned the Oaks winner Dancing Rain at the Tattersalls December Mares Sale in 2013.
The filly was bred by James Wigan from Dank, herself by the outstanding Dansili and winner of the Beverly D Stakes and the Breeders' Cup Filly & Mare Turf.
"She is a beautiful filly and has been from the start," Wigan said. "I am delighted where she has gone. As she was so lovely from the beginning we decided to sell her as a yearling because you are limited to how much they can ever make if you sell as a foal.
"She has a great character the more she does, the more she likes it. She's always been a star. She has a lot of the mare about her, the mare was the same, she liked to be doing things. Hopefully she has a bit of Galileo about her and I think she is a good combination of the two.
"Dank has had another filly by Galileo this spring and we also wanted to make sure that she arrived fit and healthy before selling Gloam. This spring foal will not be sold."
Of the decision to sell as a yearling through a consignor, Wigan said: "It is a different matter selling yearlings to foals. Jenny and Liam do a wonderful job, they are close by us and have produced her in superb order.
"I always thought that she would be nearing the top price of the sale. To get two people who are as keen as that in competition, it's fantastic."
William Hill make her 50-1 to win the 2019 Oaks and she is 33-1 to win the Breeders' cup Filly & Mare Turf.