Frankie Dettori secured a double on Champions Day at Ascot on Saturday aboard Cracksman and Persuasive and capped remarkable season after Enable's expolits this campaign.
By Tom Peacock at Ascot
Frankie Dettori must have felt that his entire career had travelled full circle within the space of 45 minutes as he ushered in the old and the new at his favourite haunt.
Not only was Ascot the scene of his miraculous 'Magnificent Seven' in 1996, when the Queen Elizabeth II Stakes had been one of his winners on that card, that race had also provided his first Group One success six years previously when he triumphed on Markofdistinction.
The well-backed victory of Persuasive (8-1) was his sixth in the mile decider - breaking a seven-year run since Godolphin's Poet's Voice - and that might have been reward enough were it not for the fact that he had the ride on Cracksman waiting for him in the Qipco Champion Stakes.
Strangely, for a man who has claimed virtually every one of the world's major prizes and has added five more this year with Cracksman's stablemate Enable alone, the effective seasonal finale was one which had always eluded the Italian.
That was settled in quite emphatic style as this relentless galloper moved into position turning for home and drew seven lengths clear. Dettori was able to lap up the adulation and punch the air before the line as the 13-8 favourite coasted home.
"I'm thrilled for everyone," he said. "It's Frankel's first Group One [in Europe], my first Champion Stakes, a lot of firsts and a great performance. I had a nice chat with Her Majesty, it was a good day all round.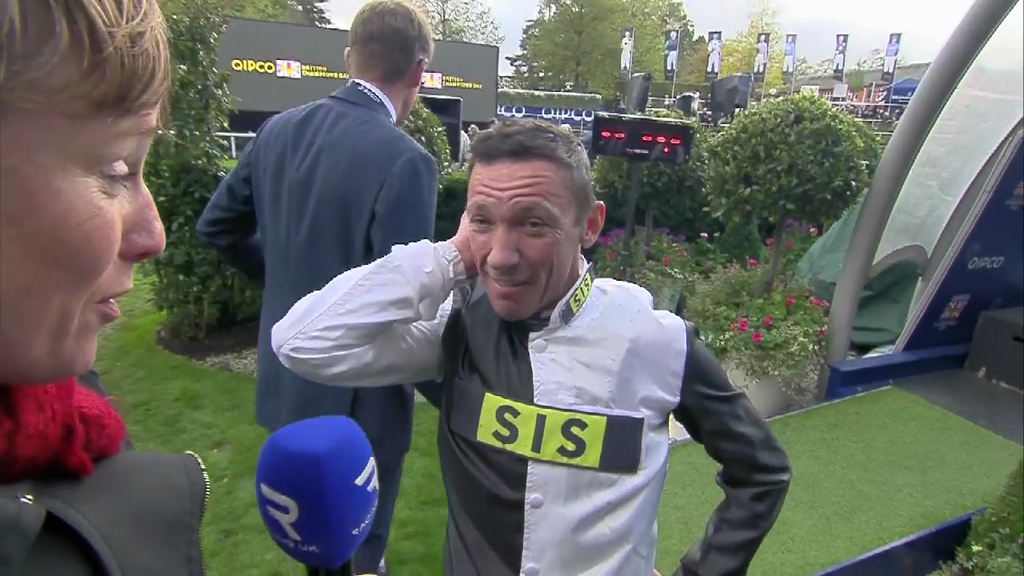 "The Champion Stakes is a colossal race, my father came close, I came close a couple of times, it's been bugging me a long time to put it to bed with a great performance."
He went on: "I didn't expect Persuasive to win, I didn't sleep very well because of Cracksman, I really felt the horse was in tip-top shape.
"When the rain came I was delighted because I knew it would make it a test of stamina, the headwind helped because it makes it even harder to get to the end, it stacked up towards my side but the horse still had to deliver, and he did. I'm made up."
It was also Cracksman's debut strike at the highest level, adding to Group Two wins in the Great Voltigeur and Prix Niel, a third in the Derby and second in the Irish equivalent.
"What I rode today is not the horse I rode at Epsom," Dettori said. "He's developed, he's stronger, he's a good horse now. I was surprised how well he travelled because he can be a little bit laid back in his races but he jumped well, the pace was honest, he was able to follow and I played my ace card, catch me if you can, because I knew he'd get to the end no problem. I gave a cheeky glance at the screen, he was clear, it was a fantastic performance."
Dettori was not going to be drawn into any whys and what-ifs about Enable and Cracksman taking each other on, and which he would ride. Those are matters to be settled next summer, presuming John Gosden's stars are still at their peak.
"Don't put me on the spot asking which one is best, I wouldn't know, they're both good," he said. "To have Enable and Cracksman in the same year, well done John Gosden, he's a genius. We'll tackle the bridge next year. It's Cracksman's day today, let him have the glory!"
Persuasive, who seemed to be reaping the rewards of a lighter season when relegating Ribchester to second again in the QEII, will not be one Dettori needs to worry about as she appears likely to retire to Cheveley Park Stud now.
"To be honest, looking at the line-up I thought God, she'll have to run well - there were Group One winners all over the place," he said.
"But the key thing was that she had got the ground. The QEII is a special race for me. If you go back to 1990, Markofdistinction, it was my first Group One win, so it brings back some good memories."