Watch a full replay of how Elarqam, a son of Frankel out of Attraction, won the Group Three Tattersalls Stakes at Newmarket on Thursday
By Racinguk.com staff
The wonderfully-bred Elarqam maintained his unbeaten record in the Group Three Tattersalls Stakes at Newmarket on Thursday.
Trained by Mark Johnston for Sheikh Hamdan Al Maktoum, the 1.6 million guinea purchase is by Frankel out of the Middleham yard's brilliant Guineas winner Attraction.
In a performance slightly reminiscent of his debut win, Elarqam took a while to hit top gear but when he did the response was impressive.
Heading into the dip, Jim Crowley had to ask him a serious question as Tangled threw down a challenge on the rail.
On meeting the riding ground, though, Elarqam (11-8 favourite) really began to motor and pulled two and a quarter lengths clear.
Tip Two Win, successful in a Listed race last time out, stayed on to take second, giving some substance to the form.
"He is quite a difficult horse to read, because he can be quite laid back. Jim [Crowley] said he got quite warm before the race and was actually quite keen in the race, and was glad to be a bit away from the others, which is not how we would expect him to behave. If anything, he is a bit too laid back at home most of the time.
"You can't see when he is going to find another gear – it is almost as if he lets them come to him and then finds another gear. He is a quite a difficult horse to read. It is just inexperience.
"It is the same at home – he has not made the normal progression through his gallops that you'd expect. He did one spectacular gallop early on and then next time it was if he was having is first gallop. That's why we have been a little bit nervous to take big jumps with him, because he is clearly still a very green horse, despite the fact we have waited so long in the season to run him."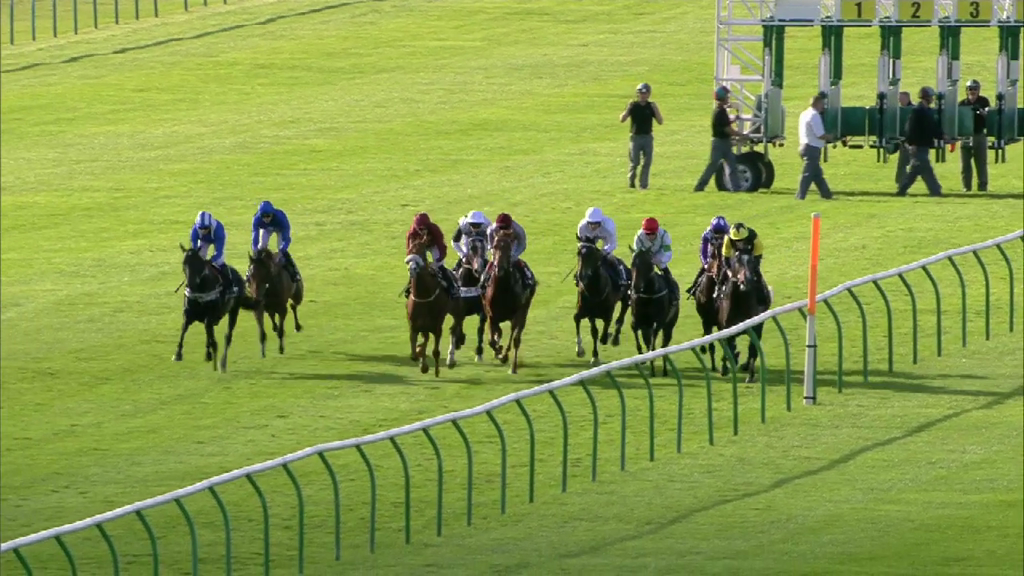 Johnston admitted to feeling butterflies beforehand, but conceded: "I wish I had a stable full of them. If I had a stable full of them, I might not get so nervous when running in a Group Three. It is the most nervous I have been for years – maybe since his mother ran. It is not the size of the race that makes me nervous, it is when nothing but coming first will do. Coming second today would have been a desperate disappointment to me."
The trainer sees distinct similarities with former stable star Attraction. He added: "Attraction came with those (awkward) legs and the expectations were relatively low. She was not even named until not long before she ran and Bobby Elliott rode her one morning and said, 'You'd better get her named – she's not half bad'.
"We didn't do a huge amount with her before she went to the races, but she had a fast progression curve.
"There will be a jump with this one, but I don't know when that will be. Someone asked if it will be the Dewhurst, but I don't know – we can see he's still a green horse and it is nice to take small steps. It is quite possible that we won't try that high this season, but that will be up to (owner) Sheikh Hamdan.
"This is the first time Jim [Crowley] has ridden him and we are all still learning. We really haven't discussed what we do after today. The first thing Sheikh Hamdan said he need to go further and the jockey confirmed that.
"He is a spitting image of his mother: exactly the same shape, the same head, maybe even a little bit plainer than hers. The only thing he doesn't have is the same legs – and neither does he have the same style of running, because she would explode out of the stalls and have them all at it.
"Obviously, he has only ever run with cut in the ground and with her mother, she won on her second start on soft, but after we upped her to Group One level in soft ground, we discovered she wasn't the same horse. He will be better on faster ground."
Crowley added: "It was a lovely performance. He would have no problem going a mile. He will be better on better ground – that's why I stayed out wide a bit on him, because the ground was fresh. He will get further than a mile as well in time. He has a good attitude. I rode him at work at home and I liked him that day – he was a big sleeping baby and still doesn't know what it is all about."