By Andy Stephens
Aidan O'Brien trains the finest bloodstock in the world and enjoys some of the best equine facilities known to man, but in no way does it detract from his achievement in securing a record 26 Group One winners in a calendar year.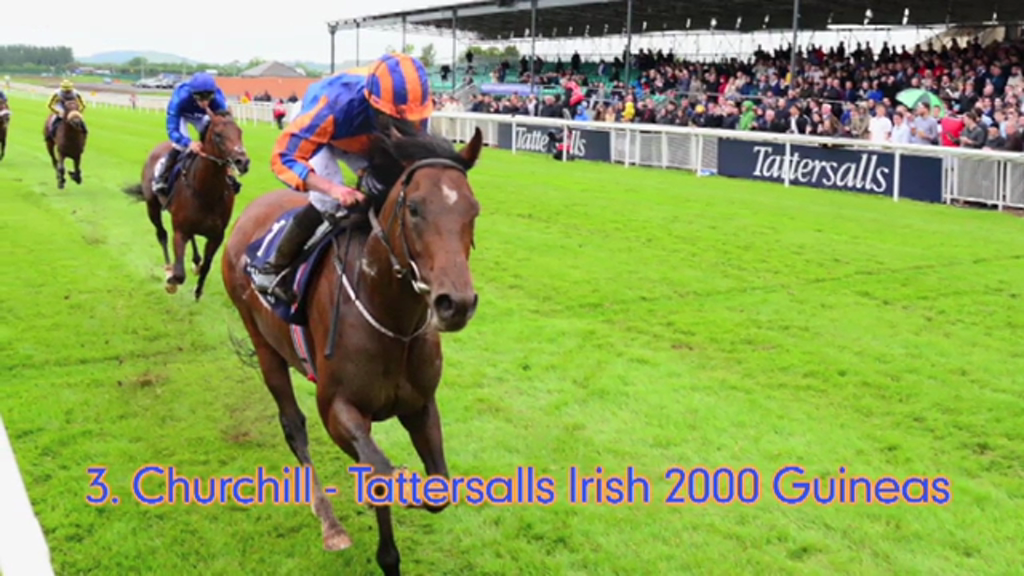 O'Brien was a 16-1 chance to achieve the feat in the spring and that fairly reflected the task in front of him. He had about a 6 per cent chance of pulling it off and, after drawing a blank at Meydan in March, did not start getting down to business until Churchill won the 2,000 Guineas on May 6.
In the intervening 176 days he has, remarkably, averaged a winner at the highest level every week.
There have been many highs and the occasional low, not to mention a hugely worrying time in his personal life when his daughter, Ana, broke her neck and back in an ugly fall at Killarney in mid-July. Thankfully, she continues to recover and it was grteat to see her present at Doncaster for a historic moment in her father's decorated career as Saxon Warrior rallied tenaciously to lift the Racing Post Trophy.
A quick glance at the opposition puts into perspective exactly what O'Brien has achieved in overhauling Bobby Frankel.
Between them the next nine in the trainers' championship are some of the finest men and brains in the business - John Gosden, Richard Fahey, Sir Michael Stoute, Mark Johnston, Richard Hannon, William Haggas, Andrew Balding, Charlie Appleby and Roger Varian.
They must be responsible for about 1500 horses - many themselves superbly bred and owned by the most powerful patrons in the sport. Enable, Cracksman, Ulysses, Ribchester, Barney Roy and Stradivarius are among the thoroughbreds under their wings.
This collective might, though, has this year produced "only" 21 Group One winners.
O'Brien's life revolves around horses, horses, horses, his family and nothing else. There is no room for distractions for a man who has spent the past two decades pushing the boundaries.
The 48-year-old's attention to detail is remarkable - on and off the track - and work ethic extraordinary. Famously, he travels backwards and forward every day to Royal Ascot in order to analyse his horses work in the morning before watching the races unfold in the afternoon.
Others would stay over, enjoy a relaxing meal and a glass of something cold in the evening but this is not how O'Brien operates. Rather than delegate, he prefers to use his own eyes, ears and intuition. The pause button at Ballydoyle was broken long ago.
It is one thing having the superbly bred progeny of Galileo, War Front, Scat Daddy and Deep Impact to go to war with but quite another to keep them fresh, nurture them and produce them in peak shape time and time again.
The depths in the ranks at Ballydoyle means O'Brien can campaign his horses vigorously - much as Martin Pipe used to do with horses at the opposite end of the spectrum - but it can surely be no coincidence that so many of his horses seem to thrive on their busy schedules.
U S Navy Flag and Hydrangea - two of the 15 Group One winners he has produced this year - have been prime recent examples.
Between them they have run 18 times this season (U S Navy Flag also had an abortive trip to Goodwood) but on their most recent starts produced personal bests - U S Navy Flag running his rivals ragged in the Dewhurst and Hydrangea stretching every sinew to score over the longest trip she has tackled on Champions Day.
Tactically, he is also clinical. He resents any mention of "Team Tactics" and plays by the book but all angles are explored. If there is a superior rival in the field, you can guarantee O'Brien and company will have devised the best strategy to undo him or her for their own potential gain.
O'Brien deserves extra applause for never ducking a challenge or looking for soft targets - as throwing five horses at Enable (fruitlessly as it transpired) in the Prix de l'Arc de Triomphe displayed.
"I spend all my time trying to work his tactics out in races," John Gosden recently revealed to Racinguk.com. "When he has a few of them [in the same race], I try to work out who's going to go forward, who's going to sit out the back - trying to unravel that is like a Rubik's Cube."
Can O'Brien sustain his dominance? He is only 48, but his mind never stops ticking and ss soon as one races finishes, he is fast-forwarding to the next. Like the best snooker players, he is thinking three or four shots ahead.
Perhaps one day he will tire of the intensity or burn out. Then again, he might, like the bulk of his horses, simply get better and better.
It is a daunting prospect for his rivals trying to get somewher near the relentless gallop he sets.
Meanwhile, Paddy Power make him 10-1 to next season beat whatever tally he finishes up with in 2017. If he fails, it will not be through lack of trying.