By Andy Stephens
Colin Tizzard insists Cue Card remains at the "peak of his powers" and is relishing his stable stalwart's attempt to gain a record-equalling fourth Betfair Chase at Haydock in a fortnight.
Cue Card had a two-mile gallop before racing at Wincanton on Saturday, under new partner Harry Cobden, along with stablemates Thistlecrack and Fox Norton.
The exuberant Fox Norton (Tom O'Brien) galloped almost in isolation at the head of affairs and was followed by Cue Card, who was tracked by Thistlecack (Tom Scudamore). The trio looked on great terms with themselves as they completed a two-mile gallop.
Just a week earlier, Cue Card had suffered a heavy fall in the Charlie Hall Chase at Wetherby. It was the 11-year-old's third tumble in 18 months and prompted calls on social media for connections to retire him.
Tizzard's response was to dispense with the services of Paddy Brennan and replace him with 19-year-old Cobden and on Saturday the trainer was again adamant that his nine-time Grade One winner is anything but a spent force.
"Cue Card's excited to be here - that's him for you," he said. "He came out of Wetherby absolutely fine and I can't think of anything we can do better than let Harry ride him round here and have a feel of him. We don't want him to get to Haydock half-thinking he didn't really know the horse. He knows him now anyway, having also popped him over a couple of hurdles and fences on Wednesday.
"Harry said he worked beautifully; he lobbed round, was keen and he said as soon as he turned in he was off. You saw him come up the run-in; he looked really happy."
Asked for his reaction to suggestions Cue Card should be retired, he said: "Hopefully we've put that one to bed for a while. They are racehorses at the end of the day.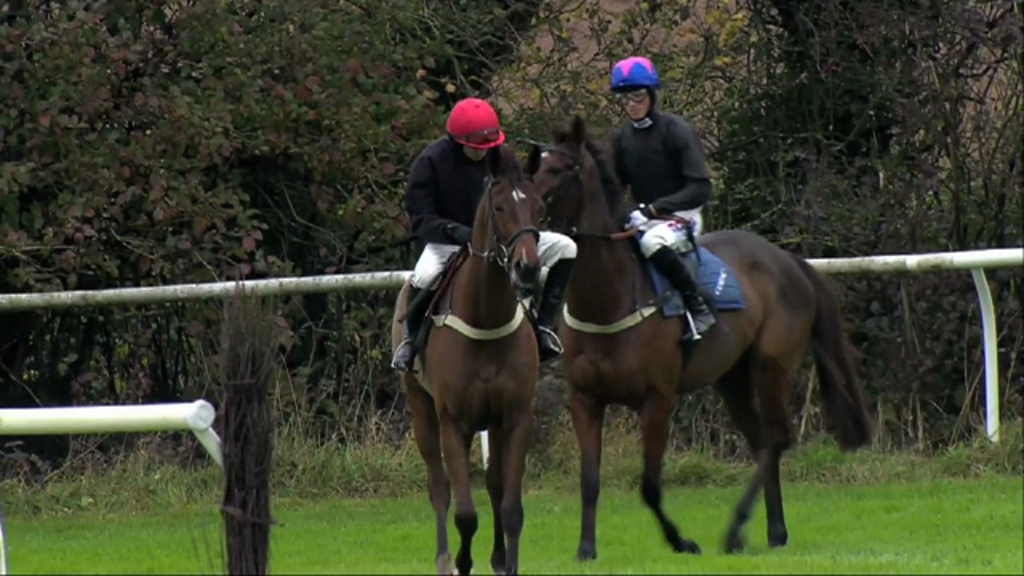 "Cue Card is still at the peak of his powers, I've got no doubt about that. He's done more for our yard than probably any horse ever will and we'll look after him.
"That's basically why we are changing jockey on him - a new pair of hands, a new idea. You saw him go round today. He's a happy horse.
"We brought him here here so could have another happy experience and he can race again. That's what he loves doing and we love racing him. The day we think he's on the wane we will stop."
King George winner Thistlecrack, off course since January with a tendon problem, satisfied Tizzard with his gallop and he confirmed the nine-year-old would reappear in the Long Distance Hurdle at Newbury on December 1 before defending his King George crown.
"It was ideal coming up here today with him," Tizzard said. "He will work harder at home but mentally and physically that will tighten him up lovely."
Cue Card leads Thistlecrack in their two-mile gallop at Wincanton on Saturday
Fox Norton, the Champion Chase runner-up, was a ball of energy and his spin should have put him spot-on for the Shloer Chase at Cheltenham tomorrow week, in which he will clash with his Festival conqueror Special Tiara.
Tizzard said: "When he left the ring he was dancing and prancing around, but that's him. I think he'll have to have the hood back on, but he's an electric two-miler who was swinging all the way round. He enjoyed that."
Reflecting on the overall exercise, he added: "We don't want to leave any stone unturned. When Wincanton asked us whether we could bring some of our stars up here and parade, I thought straight away why don't we put the jockeys on and do a two-mile canter? It's worked out beautifully.
"Those three horses have come here, paraded and never had an easier time. For different reasons, it was great for each of them."
When racing got under way, Tizzard and Cobden teamed up to win the opening contest by a wide margin with Kilbricken Storm, who took advantage of the fall of Mont Des Avaloirs at the final flight.
Later on the card, Brennan guided top-weight Tizzard's Theatre Guide to a gallant third in the Badger Ales Trophy in the Cue Card colours of octogenarian owner Jean Bishop.
Brennan's mixed record on Cue Card - five Grade One wins mixed in among three falls - form part of an overall excellent record he has built when riding for Bishop in the past couple of years.
The 36-year-old has had 17 winners from 53 rides for her - a strike-rate of about 33 per cent - and on another 17 occasions has gained a top-four finish. He has completed 47 times.