By Geoffrey Riddle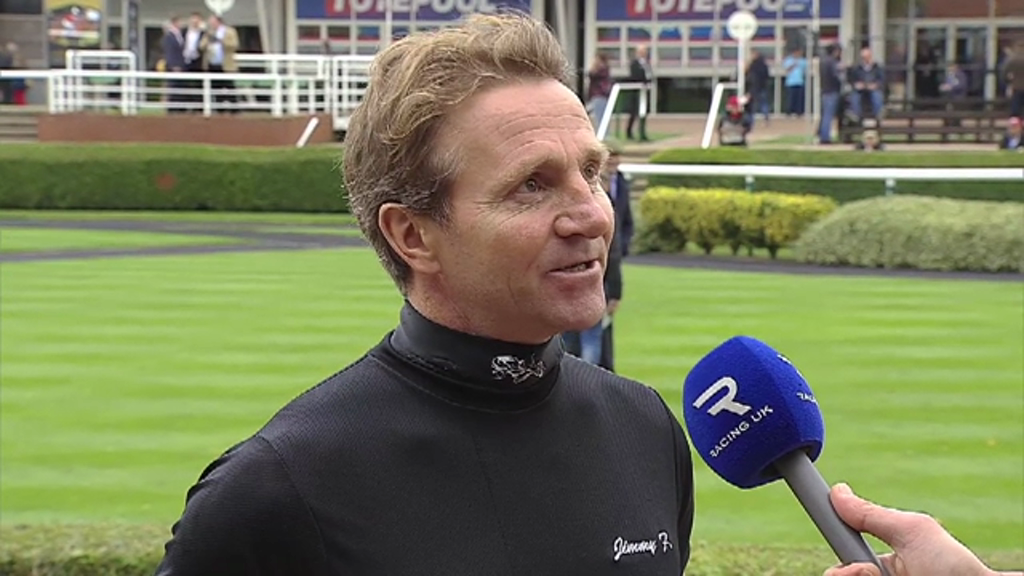 Jimmy Fortune has called time on his Classic-winning career and cited problems with his back for bringing down the curtain on his 29 years with a jockey licence.
The 45-year-old won the 2007 St Leger at Doncaster aboard Lucarno, and won some of the biggest races in the world aboard fellow John Gosden-trained representatives such as the 2008 Queen Elizabeth II Stakes on Raven's Pass and the Yorkshire Oaks on Dar Re Mi in 2009.
Other notable horses the Irishman rode include Oasis Dream, the European sprint champion, globe-trotter Side Glance and fillies such as Cheveley Park winner Serious Attitude and Coronation Stakes heroine Nannina in 2006.
That year he was top jockey at Royal Ascot, when he also struck on Winker Watson in the Norfolk Stakes, the Hunt Cup on Royal Oath and Jersey Stakes on Tariq, the Wokingham on Baltic King and the Ascot Stakes on Full House.
"It's been a difficult decision," Fortune said.
"I love my racing, love the weighing room. It's my life, so it's been a difficult decision, but we all have to go sometime."
"We can't go on forever and I know I'm very lucky, you only have to look at the likes of Freddy Tylicki and even back to Steve Wood, lads that get thrown out of the game at such a young age. I've lasted nearly thirty years and I'm very grateful I've lasted that long."
Gosden provided him with the final ride of his career at Newmarket on Saturday when Nathra finished third at 20-1 behind Roly Poly in the Kingdom Of Bahrain Sun Chariot Stakes, a race he won aboard Lady In Waiting in 1999.
"I am very grateful to John to put me up in a race of this stature and I felt it was a nice way to go out – riding in a Group One," he said.
"It is a bit emotional, really. She is a very tough filly and could have done with a bit of juice in the ground, but she would have probably only been second, to be honest.
"It is a nice race to finish off in."
Fortune was well known for his strength in the saddle and the whip was shown to his partners only when there was a real need. He only returned to the saddle in August, having been out since May with back trouble. During the summer he revealed he had experienced severe back spasms and on his return he described riding Agent Murphy at Newbury as 'two old crocks together.'
It seems the back won.
"When my back went this year it was a bit different and it was real struggle to get it right again," he added.
"When I came back I couldn't put the workload in that I needed to be competitive so in a way it has probably finished me off."
Jimmy Fortune secured his only British Classic victory in 2007
(PA)
Born in Wexford, Fortune was apprenticed with Jim Bolger in Ireland. He was brought over from Ireland by Michael O'Neill when he was 15 and was first licensed in the UK in 1987. His first win came at Thirsk in 1988, riding Hitchinstown.
The following year he burst on to the scene with victory aboard 50-1 shot Joveworth as a 5lb claiming apprentice for O'Neill in the Ayr Gold Cup. His agent is Tony Hind.
"My agent has been fantastic to me over the last 25 years," he added. "I'm probably the only jockey that hasn't been champion for him!"
He was hesitant to reveal what he was leaving the jockey ranks to do, but let slip that it will be in the real estate game.
"There have been many good horses along the way. I've been fortunate and very lucky throughout to ride for some very good people. I'm very grateful to all of them," he said.
"I've got a few irons in the fire. I've touched on a bit of property and things like that. There's a limit to what I can do with racing so I'll have a few months to have a think about it.
"I'm conscious of the fact I have my boys, and hopefully I can build some sort of business to pass on to them. That's what I've been thinking over the last year."